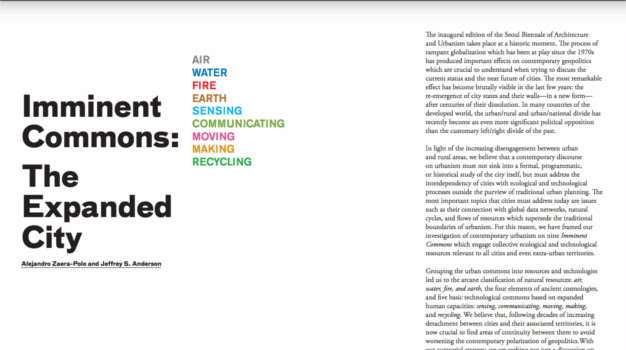 IMMINENT COMMONS: THE EXPANDED CITY
As the second book of the Seoul Biennale of Architecture and Urbanism 2017, it presents contemporary urbanism thoughts on nine imminent commons, which engage collective ecological and technological resources relevant to all cities and even extra-urban territories.
Recent years have seen greatly increased political opposition between urban and rural areas, bordering on crisis. In order to avoid further aggravating this urban/rural polarization, we need to cultivate a discourse on urbanism that focuses on the interdependencies between cities and the greater ecologies of resources, technologies, and natural processes in which they are situated. The way we think about cities needs to expand significantly to incorporate their effects on global natural cycles, how they metabolize resources from rural areas, and their impact on both local and regional economies.
Alejandro Zaera-Polo, Jeffrey S. Anderson (eds.)
More information: actar.com/imminent-commons-expanded-city/