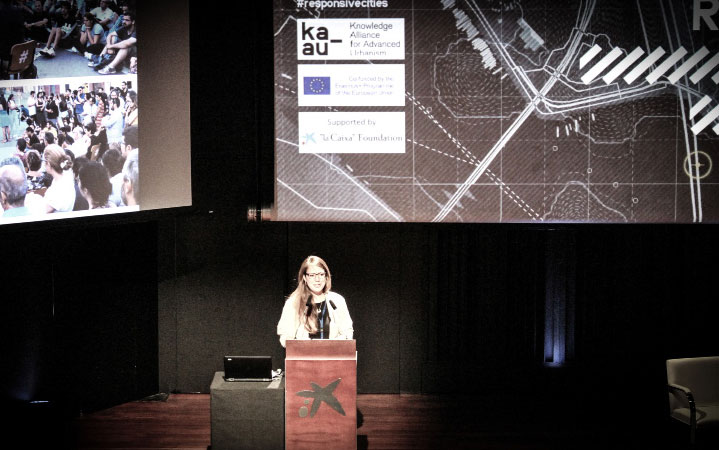 How can we establish the common city?
Barcelona requires us to fight against inequalities.
Ecology and the challenge against climate change are the elements we want the municipality to work on, side by side with its citizens because what makes smart a city are people, not sensors. Therefore, we consider neighbourhoods as main pivots to bring a change in the city and we have been guaranteeing the right to a home to everybody, expanding the social housing stock. Besides, we encourage the use of public transports developing a new bus system and connecting nine cities from the metropolitan area by a new tramway, in Avinguda Diagonal, for a more sustainable mobility. Again, with the Superblock project, we managed to bring life back to the streets, supporting spaces for neighbourhood's activities as well as green areas. Finally yet importantly, the energy consumption issue
requires us to generate more and more power from renewable energy sources so, to achieve such a result, we are proposing a commitment, from private and public sectors with the citizens, to reduce our energy usage and to make sure that nobody is left behind without energy access.
Barcelona needs a balanced tourism.
The city welcomes 30 million tourists per year. Tourist accommodations have increased by 20 % in the last three years and 50 % of them are concentrated only in the 17% of the city, creating a phenomenon of overcrowding. In the last four years, the number of residents in the gothic quarter has decreased by 45 %. This
has created a problem of gentrification and expulsion from the more central areas of the city.
We, the city council, have been working to solve this issue. First, we need to establish a special plan for tourist accommodation, as a reaction to the current illegal system. Producing policies together with citizens, we defend urban planning as a tool to make the right to the city possible and build an egalitarian city, promoting the quality of life of the residents. We have to protect people's right to decide in everyday life because this is the base for a common city.
By Janet Sanz Cid