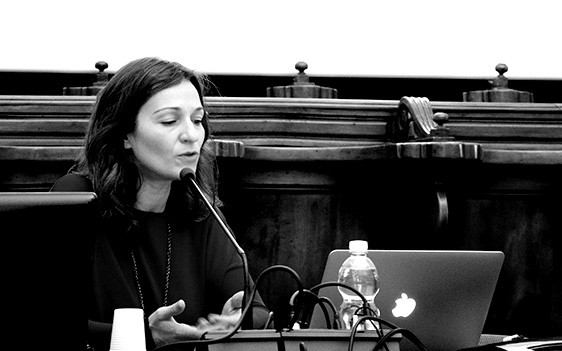 PLANNING/LANDING Responsive Environments
Talking about adaptations, I want to introduce the idea of responsiveness as a kind of tool or a behaviour that we can achieve through our design and proposal of systems and systemic approaches.
Responsive environments are an outcome of all the technological tools that we have today and all the new means influencing not only the way that we interrelate with the physical world but, basically, how we design that physical world.
We are witnessing a radical design process shift closely related with performing rather than forming. Technology is becoming our tool to design behaviours and Living Machines oppose to any 'Machines for Living In
So, it is better talk about performance regarding our buildings, rather than talking just about design. We have to know how they perform during time, how they interact, how they adapt to environmental conditions but also to the users' needs.
Back in the '60s or '70s we were able to sketch ideas and visions about cities that can move, cities that can be like robots, things that are not static anymore. We were very intrigued by ways in which we can combine physical spaces with technology of motions and interactions. Today, the most radical change is that we have the technology to build almost everything we imagined in the past, also due to another relevant revolution: the almost total accessibility of information and knowledges.
If computer were once the size of a building, now buildings are becoming computers
In this sense, buildings are not only designed but programmed in a nano scale, which means that are being able to operate in input-output communication protocol. Therefore, they are no more static structures but are becoming living organisms, able to control their own performance by evolving and learning. Nowadays, the most important revolution is about information, so the change that I see coming is the one relate to the concept of connectivity. Connectivity in terms of social interactions that goes beyond any physical limitations and connectivity in relation with merging the virtual and the physical data.
Can machines think? Can buildings think? Can cities think?
Not only think, but also evolve which means learn and have an intelligence integrated into their structure. There is no doubt that today a trend about smart cities exist, but it is also true that the power of information and communication technologies are allowing us to see the urban design in a different way. Cities are dynamic ecosystems, but traditionally we have been designing based of approximated data. Those data are not approximated anymore now because we do have the technology for capturing it in real time and we as designers have the responsibility to project in a more dynamic manner.
On these topics, it is very important to understand which are the controllers of this dynamic behaviours, because it is clear that by now every one of us is able to use app and be more integrated in the public spaces as part of the urban complexity.
Technology inventions are affecting also the perception aspect. The physical space that we inhabit every day now can be seen through many augmented reality tools that are now allowing people to receive information from the urban environment and to program open spaces and systems according to their needs and willing. Augmented reality helps us to simulate conditions and, so, to understand the impact of particular factors or elements in the spaces in terms of contaminations and social interaction. This is clearly becoming a fundamental tool to design and to participate into the design process.
Talking about programming building with new technologies is very important to refer to the use of smart materials that are able to vary their properties as living organisms and to interact with the environment and the users over time. Regarding, for example, the structure of our buildings we can reflect about the concept of durability and about the capacity of a structure system to respond to impacts and shocks.  Working with the potentialities of bio materials, for example with plants, we are today allowed to realize more bio photovoltaic panels into north orientation, into humid and dark climate to generate energy. We need to pass from the digital to the physical interfaces. We don't want to always have a screen as a mediator to interact with buildings or cities, but we want that all those new technologies are embedded into the nano scale of the buildings themselves. In this sense, it is important to work with a material such as a graphene.
ARETI MARKOPOULOU
IAAC Barcelona
IAAC – Institute for Advanced Architecture of Catalonia
The Institute for Advanced Architecture of Catalonia – IAAC is an international centre for Education, Fabrication and Research dedicated to the development of architecture capable of meeting the worldwide challenges in constructing 21st century habitability. Based in the 22@ district of Barcelona, one of the world's capitals of architecture and urbanism, not to mention the European Capital for Innovation (2014), IAAC is a platform for the exchange of knowledge with researchers, faculty and students from over 60 countries around the world.
IAAC is Education, with the Master in Advanced Architecture and the Master in City & Technologygiving the next generation of architects the space to imagine, test and shape the future of cities, architecture and technology. This is possible through Open Thesis Fabrication, implementing of Applied Research and allowing learning by doing, as well as through short programs, implementing global agendas developed through local solutions, as the Global Summer School.
CURRICULUM
AretiMarkopoulouis a Greekarchitect,educator and urbantechnologistworking on the intersectionbetweenarchitecture and digitaltechnologies.Sheiscurrently the AcademicDirectorat IAAC in Barcelona, one of the leadinginternationalplatforms for education.Herresearch and practice design explores new architecturalmodelsthat incorporate the application of ICTs (Information and Communication Technologies), Material Intelligence and Fabrication, allowingbuilt and public space to dynamicallyadapt to behavioural and environmentalchanges over time.Shehasbeendevelopingurbanprojects and guidelines for the implementation of ICT in the public space and the implementation of renewable Energy technologies in buildings and open spaces.