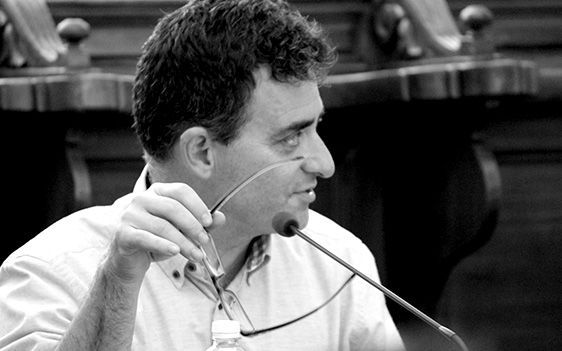 PLANNING/LANDING | Thoughs on "Advanced Urbanism"
Italo Calvino, in his book of 1988, LezioniAmericane, wrote six memos for the 21th century, including in the list: Lightness, Quickness, Exactitude, Visibility, Multiplicity, and Consistency.
Saying the contradictions of contemporary life, these are the key questions for the creation of something new in the 21th century. The most important of those may be 'Consistency'.
The challenge is to give consistency to art.
The challenge of the fragmented world in which we live, with so many different options and opportunities, is to make something consistent.
We talked about urban form, land use and occupation, the issues of megacities. We talked about the metabolism of this huge urbanisation process can work, in term of renewal and circular economy. Also some of us mentioned resilience in relation of vulnerability of probability of accident.
Smart city may be 'too much' sometimes, meaning that today there are lots of disruptive technologies, including Information (Internet of Things, Artificial Intelligence); Energy (Renewal energies, Intelligent Grid); Mobility (Electric, Smart); Materials (Circular Economy); Production (Mass customisation); Living organisms (Nano/Molecular medicine). Fast transmission of data, energy and resources lead to the Society of Networks, where Place is no more only a 'position'.
New values and behaviours from new generations of Millenials are emerging. Millenials are more collaborative, participative, and ecological oriented. The visions for 21th Century is the vision of  Advanced, Smart, Knowledge, Creative, and Cooperative/Talent 'Cities'. But also of Transition and 'Eco-cities', Slow 'Cities' that have to be 'Fertile Cities &  More Creative Countrysides'.
Project is becoming less conventional design process, and more strategic planning.
Strategies can include: the Regeneration and Sensing (of places-memory/traffics-expectations), the Reconciliation and sometimes the Renaturation (of urban an rural). Planning is focusing on Edges and on the concepts of Unfinish/Endlessness (of product/process), on Inclusion/Participation, and on Sustainability and Resilience.
Advanced Urbanism is the sensitive integration of emerging technologies on cities. It is about applying new technologies to make cities more fertile and countryside more creative, focusing on planning processes instead on just artefacts, and engaging citizens, business and government into more sustainable, resilient urbanism. It has a transdisciplinary nature, it requires changing traditional design and planning practices towards more open and collaborative practices.
"Making is thinking" as much as "Thinking is Making".
We need more fertile cities, a smart countryside. A precise visible city, is in a good balance with the countryside. This kind of combination is a good balance, in a way closing the circle that Marx and Engels opened up when they discussed the different between urban and rural: urbanise the countryside and ruralise the city.
ANDREU ULIED
MCRIT
MCRIT
MCRIT is a consultancy company with deep experience assessing ICT impacts in the city of Barcelona, as well as carrying on research projects in the field, funded by the 7th European Framework Program, as well as the Spanish and Catalan research programs, especially in the area of smart mobility. MCRIT is investigating, together with the Local Council how to use information gathered from mobile phones to monitor mobility demand in the city. In a number of research projects funded by the 7th European Program MCRIT carried out benchmark analysis of new technologies being applied on transport and mobility, at urban and inter-urban scale, as well as advanced softwareand modelling tools able to assess their potential impacts. MCRIT have deep interest on education, and over the years, MCRIT experts have participated as invited professors in courses organized by IaaC. MCRIT created ERSILIA Foundation aiming to transfer to the educational community at all levels the know-how of MCRIT in the use of advancedtechnologies, as well scenario-centric and project-based resources facilitating new educational paradigm.
CURRICULUM
Expert in planning, foresight and policy evaluation.DoctorEngineer from the PolytechnicUniversityCatalonia (1996), and Master's in Planning from the University of Harvard (1994), with internationalexperience in planning and foresightstudiesrelated to Europeanterritorialpolicies. MCRIT Partner since the foundation of the company in 1988, and MCRIT Directorsince 1994. At locallevel, he coordinatesparticipatory and scenario-building processes in the frame of urbandevelopment and mobilityplans in the region of Barcelonaaswellas in the rest of Europe (e.g. in Croatia), North Africa (e.g. Bizerte, Tunisia), Latinoamerica and the Caribbean (e.g. Blumenau and Palma, Brazil, Dominique Republic). He regularlygivesconferences and classes in strategic planning, foresight and project/policy evaluationatdifferentuniversities.He's the Director of the professionalcourse on Economic and Financial Project evaluationorganisedannually by the Association of Engineers and Economists of Catalonia.