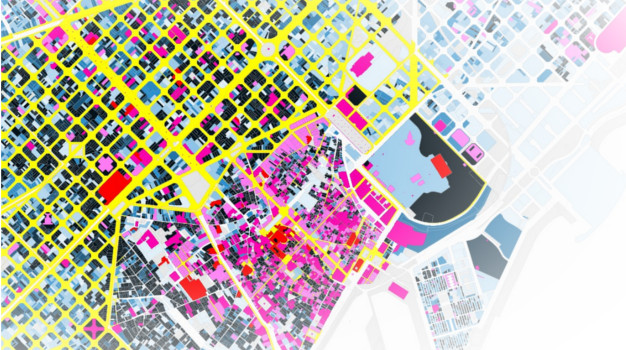 BIG TIME BCN is an interactive map of Barcelona that highlights the age of urban plots contrasted with the city's architectural heritage. This dynamic cartography offers an insight into more than 2,000 years of history, nearly 70,000 plots and 3,000 protected monuments.  For the first time, complete information on Barcelona's heritage is available for citizens, professionals and tourists in a synthetic, open and flexible format.
BIG TIME BCN aims to be a tool for pleasure of those who love the city of Barcelona. It seeks also to become a reference platform for professionals and students that provides cadastral and heritage information in a novel and effective way.
The cartography represents a first attempt to include several existing databases and archives, most of them still to be digitized or opened. Big Time Bcn is useful for visualising information but also it melds different data sources into a single representation.
For more information: bigtimebcn.300000kms.net
Credits: A project by 300.000 Km/s