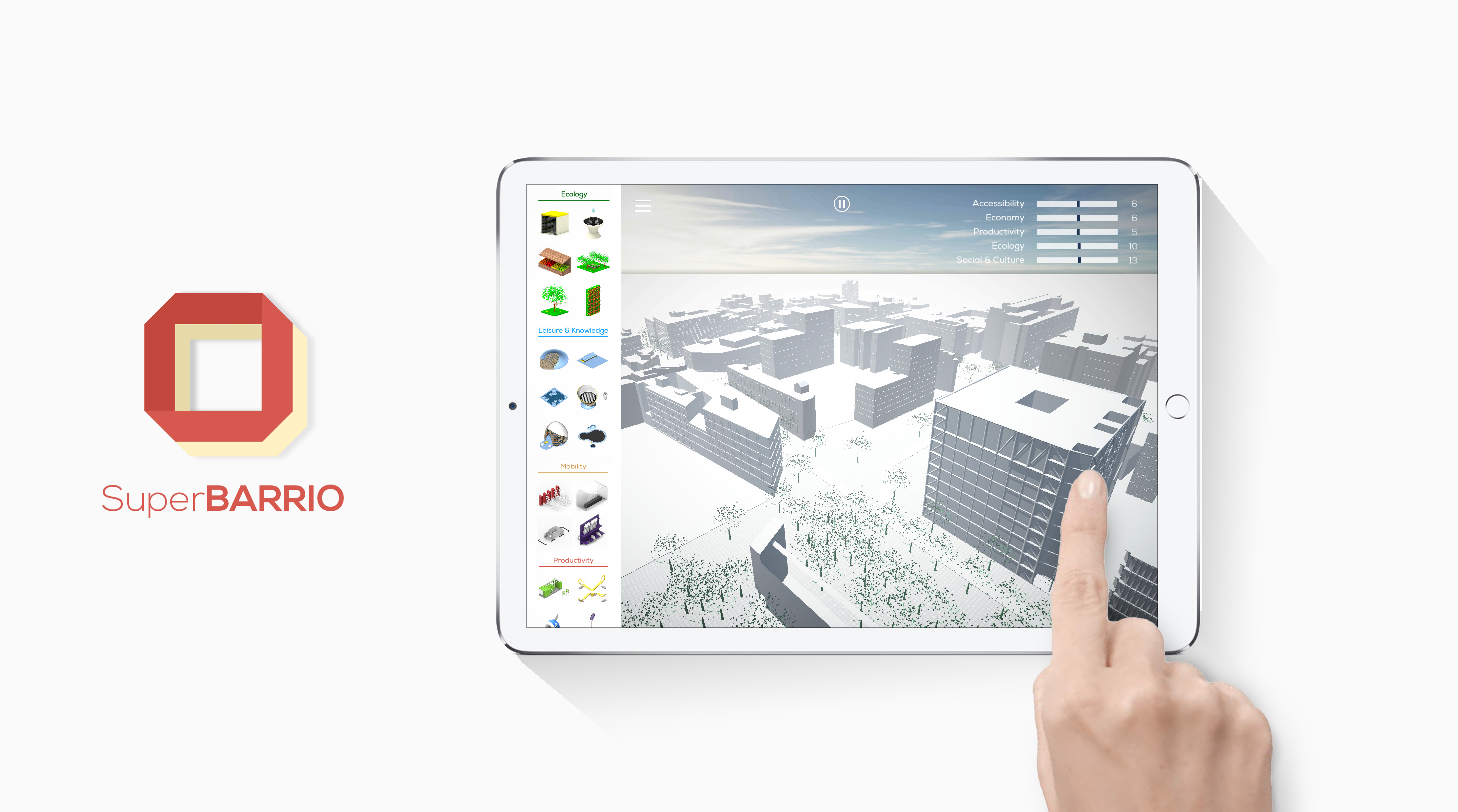 SuperBARRIO- A game app to engage citizens in urban planning
SuperBARRIO is a videogame that boosts participatory design processes

Developed as an open source video game for smartphone and tablets, it is a tool for architects and public entities to engage the citizens in the design of the public space, to educate to sustainability and inclusiveness, and to collect data about the citizens' needs, desires and proposals SuperBARRIO is a flexible tool that can be applied to different neighborhood. Pilot projects have been developed for the Superilla Pilot Barcelona, and for the Gavoglio area in Genoa, Italy.
Citizens who are not specialists, architects or designers, do not have a tool today to design and visualise a proposal for the urban space.  SuperBARRIO allows them to visualise the neighbourhood in 3 dimensions and to modify it, adding elements, functions and services for the public space, in relation to the topics of ecology, energy, mobility, leisure and culture.
Each player can make a design proposal and visualise its impact, receiving a score about the categories of accessibility, economy, productivity, ecology, social interaction. The player can, therefore, understand the level of complexity of each decision related to the urban space and the different needs related to different functions.
The application collects the data of each session in a server, building a database about the citizens' desires, needs and proposal and allowing the data visualisation and analytics in a dashboard, accessible to citizens, architects and public entities. SuperBARRIO can be download on Android tablets and smartphones with Google Play store and allow to open the participatory process to more user than conventional analogic methodologies. 
SuperBARRIO BCN has been until now tested with neighbours involved thanks to the collaboration of Poble Nou Urban District, the local association Col·lectiu Superilla Poblenou and the Ersilia Foundation for the school 4 Cantons. The data collected can be visualized on the dashboard webpage.
SuperBARRIO can be a flexible and customizable tool, open to the application in different contexts: it is as simple as changing the urban 3D model. Rules score logic and data collection will be the same. It has been applied in Genoa in the Gavoglio project, in collaboration with the Casa Gavoglio association and UniGE. 
For more information: http://superbarrio.iaac.net/